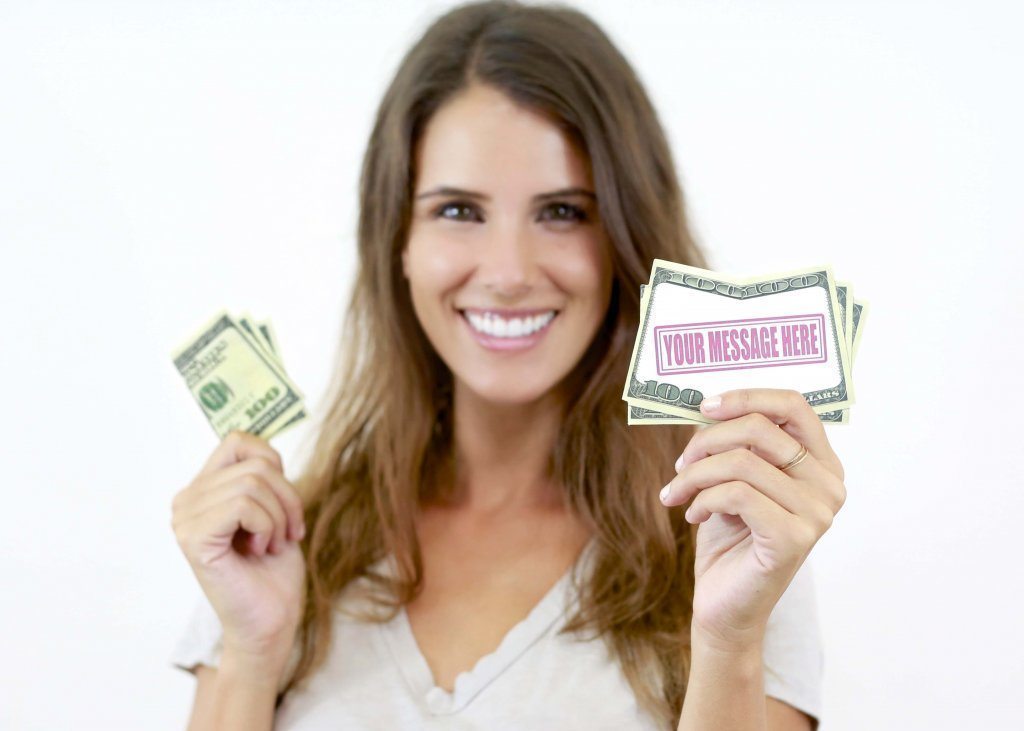 WORLD'S BEST MARKETING TOOL!
BILL-BOARD® $100 Money Drop Cards are so realistic that everyone will swear they found real money. We now offer both styles of currency; The previous and the current one hundred dollar bill found in circulation!
Our money cards are precision machine die-cut and graphically designed to create the optical illusion that a "single" card (when folded over) looks like a stack of one hundred dollar bills. There is nothing else like it on the market. Barr-none!
Actual Competitor Card
Did you know that some drop cards that look like money DO NOT fold over? They are nothing more than "business cards" with the image of money printed on one side. How can you tell? The seller usually describes them as …Cards that look like real folded cash.  It's a play on words; they only look folded — they do not fold. Another tell-tale sign is their size; They measure 3.62 x 2.12 (approx. size of a business card).
Lastly, they are always sold in large batches of 2,500 5,000 AND are always ("on sale") for a ridiculously low price. If you are looking for a business card that's okay(?) BUT, if you want a truly effective marketing tool then these are NOT what you were searching the internet to find! You want drop cards that at least folds-over and not one "printed to look folded."
Nothing more than a standard business card
It does

not

fold over!
Not considered a drop/sizzle card (marketing card)
Actual Competitor Card
Drop cards that fold over is a much Better choice. For Drop cards (a.k.a. Sizzle Cards) to be an effective marketing tool, it is paramount that they trick your prospect in to thinking they found real cash; This means your message must be hidden until ready to be discovered.
However most drop cards sold on the Internet (as-shown-in-the-video) are often printed on low grade paper and then cut into a rectangle shape. It is a much better improvement over the business card (on your left) unfortunately most of our competitors use lightweight printer paper which will often cause the "Butterfly" effect when dropped or tossed. In other words, because their cards don't interlock, they are likely to flutter open (like a butterfly) by the time they reach the ground; Exposing your hidden message prematurely and squashing the illusion of realistic money. Even laying on a flat surface they also tend to eventually open.
Let's face it. How often do you fold your money perfectly into tiny little rectangles? How realistic is that? Real money found in your wallet or pocket purse will be askew and not perfectly square in alignment; This is the image of money people "see" in their head – not the rectangle found on the ground.
Folds over ( a prerequisite for being a drop card);
Printed on lightweight low-quality stock (100lbs or less);
Cut into rectangles;
Does

not

interlock;
BILL-BOARD® Money Card
We are the manufacturer. Not an affiliate. We can print any one of those drop cards on the left, and our printing press doesn't care if we are making business cards or printing on cheap 100-lb photocopy paper.
A business impression is important to the receiver, and it should be to you too –> Low-end anything results in a negative, poor opinion. If you are selling cars, homes, offer a quality service or money making business opportunity giving someone or having them find printed fake cash on cheap thin paper is going to reflect poorly on you or worse, the receiver will (suspect) your success.
Give them one of your BILL-BOARD money drop cards, and they will know you are a serious contender. The quality, design, and it's unique shape are perceived as a novelty, not a cheesy marketing gimmick. The BILL-BOARD will impress your prospects.
BILL-BOARD ~ VOTED BEST!:
YES! Folds over!
YES! Die-cut shape! (

No

rectangles)
YES! Interlocks! (

No

butterfly effect)
YES! Printed on top quality cardstock! (Best 1st impression)
YES! Unique design looks like money should!
No Branding! We never print our website on your card!
BEST OF ALL! Kept as a treasured keepsake – You will be remembered!
Read ('Their') Fine Print!
WE WILL NEVER DO THIS! Look closely, and you'll find some makers even print their website on to your drop cards. That's sneaky. Why would you want to pay them to promote their business? We will never brand our company on your cards – that's a promise.
The Internet is saturated with tons of copy-cat affiliate sellers that use misleading words to convince you that their card folds over (when they don't) and more alarming 99% of them are all using low-grade paper stock money images cut into triangles.
You and your business is top quality; you are a professional in your field, then why would you buy something that is substandard? Tricking someone into believing they found money is only half of your drop card marketing, having them to think that your business (or offer) is legitimate is far more important. Don't let a cheaper price convince you to settle for something less! BILL-BOARD drop cards are the best on the market!
IT'S THE EASIEST THING YOU HAVE EVER DONE!

Because your advertisement is disguised as money, you don't have to pitch a thing or worry about cold calling or rejection. All you have to do is drop, place or them hand out. How easy is that? "I promise promoting your product or service with BILL-BOARD drop cards will be the most fun you have ever had with marketing and your prospect will get a real kick out it. Win-win!" now that's a sizzle card!
What's Your Favorite Technique?
Drop Card Idea #23: The Tipper
"'… I always but a BILL-BOARD under my server's bill. I hide my tip (inside) the $100 BILL-BOARD and interlock it closed. That way when they open it, they find their real tip. They always remember me when I come back and ask me for more cards. Love these things!'"
Drop Card Idea #19: The Door Drop
"… after hours I walk the (retail) strip malls and place a BILL-BOARD into the door seam up towards the top. When the owner opens the store the next day, my cards mysteriously falls out of nowhere which they immediately pick up! Best part only the owner or manager opens the store, so I know my card gets into the decision maker's hands!"
Drop Card Idea #56: The Stand-Out
"'… when I show homes the seller often asks to leave our card; 9 out of 10 times I find a pile of cards from other agents that have been there previously. However, when I leave my card it always gets the most attention! If my clients see me doing this, they inquire why I am leaving money. I jokingly tell them that it's the cost of doing business!'"
Drop Card Idea #65: The Gate Keeper
"… I use my money card to get past the gatekeeper … I walk up to the person at the front desk, flash my BILL-BOARD and say that I have $100 I owe such and such (their boss). Almost without fail this gets me a face-to-face with the decision maker! Super powerful for my cold calling days!"
Watch Your Sales Skyrocket!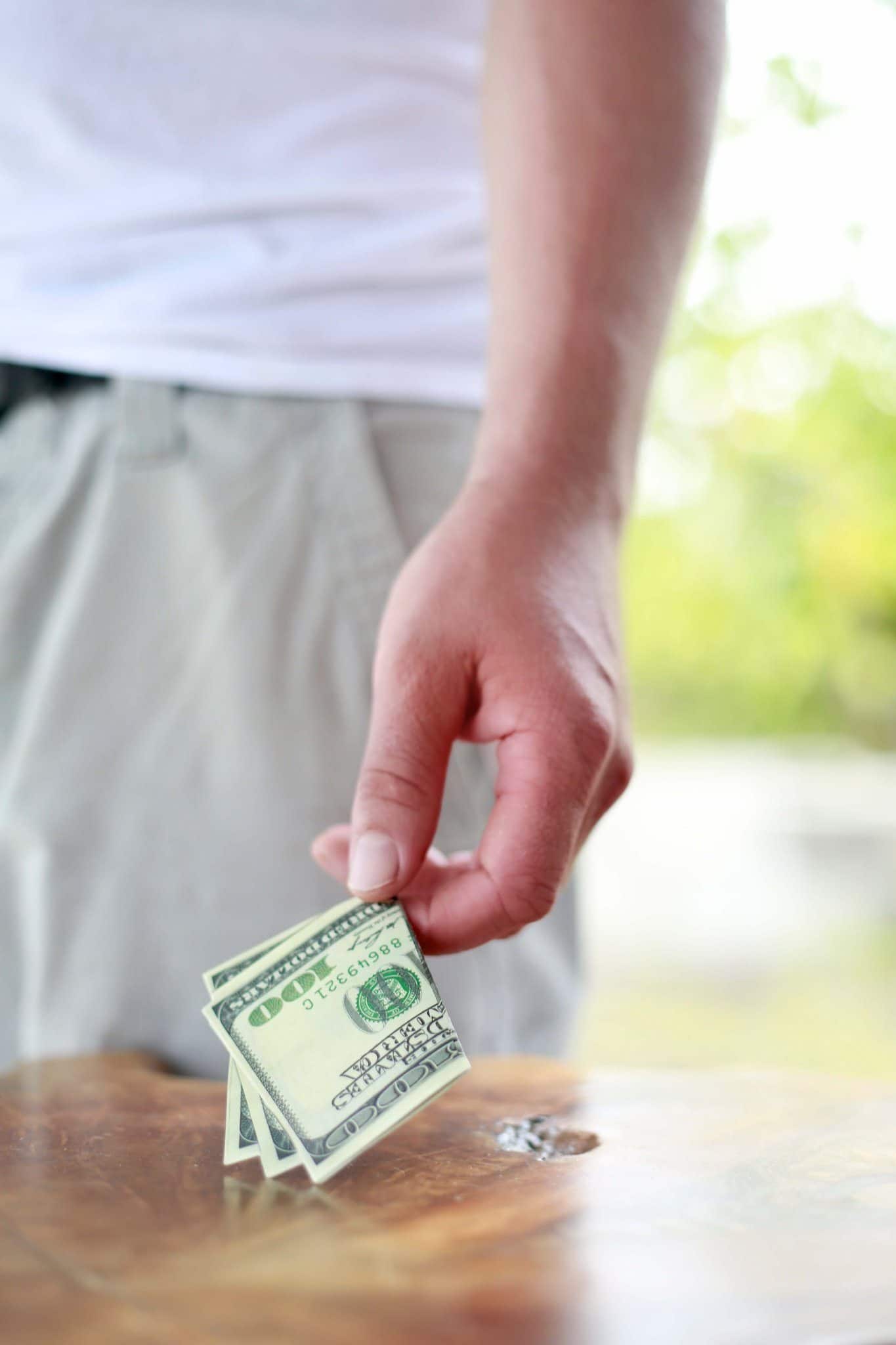 Business cards that look like money capitalize on human nature that we can not resist the allure of found money. The result is amazing, BILL-BOARD drop cards become the most amazing and affordable delivery vessel for your sales message.
It has been proven time and time again; If someone sees a $100 bill on the ground their mind creates an instantaneous response to act, it will be picked up. Your message will be delivered and read! Unlike other advertising mediums, BILL-BOARD drop cards are the ultimate and affordable advertising tool for; Marketing your business, enticing investors to join your Multilevel Marketing (MLM) program, get prospects to call your HOTLINE or watch your promo VIDEO!
… Drop cards are great for driving insane amount of traffic to your website! Just make sure to add some type of Call-To-Action on to your BILL-BOARD like; Check out my 3-min video or visit my website to learn more, etc. Also QR codes a great for making it easy for those on mobile devices to quickly get to your website. Think of drop cards as social media but offline!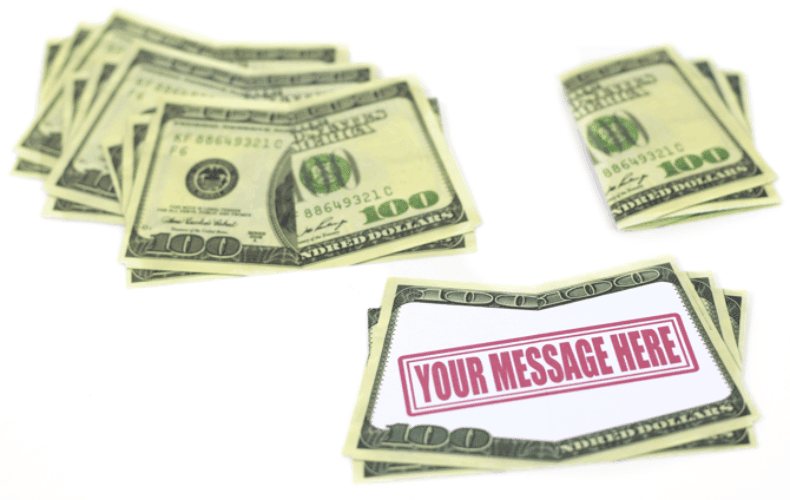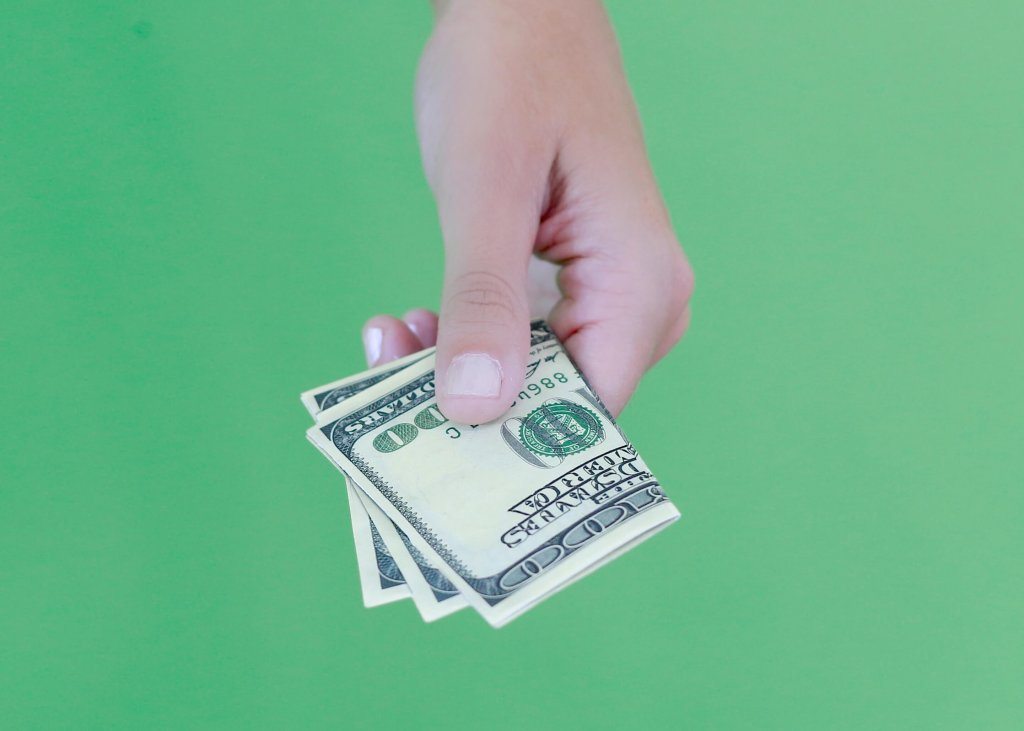 Each BILL-BOARD drop card is precision machine die-cut. This additional step is essential in creating the best illusion possible of folded over money. Die-cutting intensifies the look and adds an entirely new dimension to printed material. Unlike other money drop cards that are cut straight (standard business card shape), the BILL-BOARD unique die-cut shape coupled with its 3D graphic design is intended to work hand in hand when folded to create the best performing drop card found anywhere on the market. Our drop cards are truly a keepsake meant to impress your clients and prospects straightaway.
Exclusive (Hidden) Interlocking Tab and Slot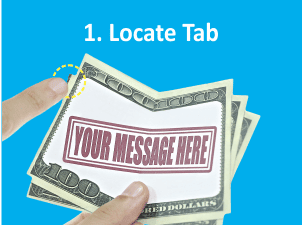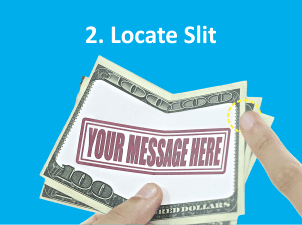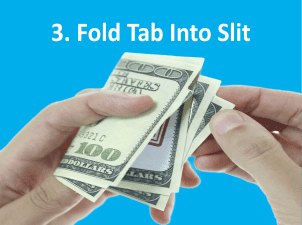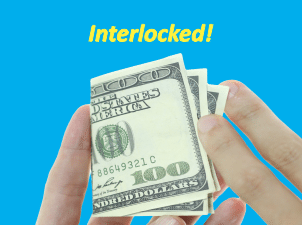 Designed into each BILL-BOARD drop cards are our exclusive hidden Tab and Slot feature. When folding these two align perfectly and "Interlock" both halves together preventing the card, when dropped or tossed, from prematurely opening (known as the "butterfly effect") ruining the illusion of realistic money by exposing your ad or message. No matter which way you drop or toss card it always lands money-side-up; Your message inside remains concealed until your prospect opens it. The tab and slot are camouflaged (graphically) to blend into the opposing design and "disappear" when joined.
When using the tab & slot feature, we recommend squeezing your money card slightly Puffing it into a cylindrical-like shape. The rounder and more puffy shape will add a 3D dimension enhancing the graphic design. Furthermore, we have deliberately printed a money border inside the card specifically for this very purpose; To perpetuate the illusion of real money whenever the inside is slightly exposed due to puffing. Another reason BILL-BOARD drop cards are the best on the market.
You Design or We Design – Your Choice!
If you want your proof instantly and don't mind doing it yourself, try our custom online designer to create your very own layout either from scratch or you can very easily modify one of our many pre-designed templates to make it quickly and uniquely your own. You can add company logos, photos, QR codes and images along with unlimited color all at no extra charge. Many of our templates already include graphic elements that can easily be removed, resized or positioned. We suggest taking a look at what we already created.

We'll Be Happy To Design It For You!
If you can't find something that's perfect for you, then have us create a design. We offer full in-house customization design services. Just give us some basic information, and we'll and create you an effective design.
 So compelling you won't be able to sleep for a week! Some ideas were so cleaver — I would have never thought of it. Every day I am out there placing my (drop)cards. I am fast becoming known as the $100 card guy!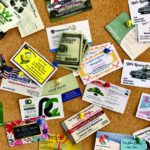 Don't think of drop cards as (only) an advertisement for your product or service, but as the vehicle that will deliver that message. In this context, drop cards are one of the most effective and cost-effective marketing tools. However the success is having an effective memorable message inside your card, along with utilizing proven placement techniques, and most importantly, being consistent in getting them out there.

Over the years, we have accumulated many of our user's great placement ideas (and tips) and conveniently organized them into our popular ebook; 101 Dropcard Ideas for Newbies below are just some of those ideas from the book.


LIMITED TIME OFFER! When you place your BILL-BOARD order today, you'll receive a (free) copy – a $20 value! The book is packed with over one hundred+ great ideas were to drop, place and to use for the best marketing reach possible.
Take Our 21-Day Challenge!
If you did nothing today to "tell" someone about your business, it's like standing alone in the dark … Only you know you're there!

GET STARTED TODAY! Take the 21-Day Challenge Drop, place or hand out just 25 drop cards each day wherever you may find yourself and do it faithfully everyday for three weeks. By the end of the 21-days, you will have reached over 500 people who have read your message, and that's not counting all the people who in turn (they have) tricked with the same $100 BILL-BOARD® drop card. It's your message going viral! 
The best part due to the novelty of the BILL-BOARD®, your message (drop-card) will be kept for months possibly years to come; What other advertising medium can do that? Nothing can!
ORDER TODAY (& LITERALLY)
'Watch Your Sales Pick Up!'